Email Spike: Combining the TWO Highest-Converting Tactics in Marketing... All Done WITHIN the Power of Emails
Embed Playable Video

Embed Playable Video directly inside your promotional emails (note: if the email client doesn't support video, we automatically switch it out with a clickable Fallback "Video")

Create Any MP4 Video

Create Any MP4 Video that you want to embed into your email

Animated YouTube Video

Animated YouTube Video
Powerpoint Style Videos

Powerpoint Style Videos. Create multiple slides into an animated embeddable and clickable GIF image, looking and acting like a true powerpoint-style VSL.

At a Glance Dashboard

At a glance dashboard, with videos sorted by campaigns for easy organization.

Built-in GIF Image

Built-in & hosted Fallback GIF image creator for email clients that do not support MP4 video embed.  Nothing to upload to 3rd party hosting sites.
HTML5 Browser Supported

HTML5 browser supported, perfect for both desktop and mobile devices.

Select Video Dimensions

Select any video dimensions that you want displayed in your email. Support 16:9 / HD formats.

Simply Copy and Paste

Simply copy and paste a few lines of code into your email.
At a Glance Dashboard

At a glance dashboard of all of your active and expired timers.

Professionally Designed

Select from our large list of professionally designed countdown timers and timer expiration designs.

Full Customization

Full control and customization of the Font Type, Font Size, Font Color, Background Color, GIF Size and Day Display.
Language Translation

Can be translated into 50+ of the most popular languages.

Accurate Analytics

Accurate analytics and impressions count for each timer.

Fully Hosted

Fully hosted, with nothing to install.
Simply Copy and Paste

Simply copy and paste one line of code into your email.

Mobile Devices Supported

Works great on mobile devices like iPhone, iPad, and Android.

Works in All Email Clients

Works in all email clients, including Gmail, Outlook, AOL, Yahoo! Mail, Thunderbird, Live Mail, Apple Mail and more.
Subject: Embed Video + Timers Directly INSIDE Your Emails
Subject: Want Click-Happy Emails?
Subject: Turn Your Emails into Click Magnets!
Subject: Add Engaging Videos and Scarcity Timers to Your Emails!
Subject: 2-for-1 "Email Spike" Bundle Sale!
What if you could combine to two MOST
important conversion boosters on a sales
letter and put them in an email…
I'm talking about VIDEO and SCARCITY.
Watch how easy it is to add both to your
next email ==> INSERT LINK
Now with a simple embed code you can use
"Video Spike" to add engaging HTML5 video
to your emails.
Now with the built-in GIF creator, it allows you
to take a snippet of a video and turn it into
a high-quality, engaging GIF, and add it to your emails.
Now with a simple embed code you can use
"Timer Spike" to add a scarcity countdown
timer to your emails.
Not only are these two apps going to help
tremendously boost engagement, clicks and sales…
…but you can get them 2-for-1, as a bundle!
==> INSERT LINK
For EVERY Internet Marketer…
In EVERY niche…
The money is in the list.
Email Spike will accelerate your email performance,
turning unengaged, unresponsive subscribers into
hyper-active buyers.
But this Email Spike 2-for-1 bundle won't be
available for long.
When the timer on the page hits zero, you'll have
to purchase each app separately at the retail price.
So grab it now before the deal is gone!
==> INSERT LINK
To your success,
NAME
Subject: Watch what I just did…
Subject: Open this Email and see VIDEO and a TIMER…
Subject: How I added a VIDEO and TIMER to this E-Mail…
How cool is this…
I was able to add this video below…
[insert this video]
…and this countdown timer…
[insert this timer]
DIRECTLY inside of this email.
In the matter of just 60 seconds.
Watch how I did it.
==> INSERT LINK
This is the future of email marketing.
Not only are you making your emails MORE
engage, more interactive, more fun…
But you're also able to utilize the two most
important elements on a sales page, directly
inside your emails.
So the elements which have the greatest impact
on Clicks, Conversions and Sales, can now be used
on each of your emails.
Watch a demo of how only a few lines of code in
your emails can do this too ==> INSERT LINK
Like the timer I displayed above in this email,
that timer is actually counting down until this
bundle of Video Spike and Timer Spike will close.
Email Spike is a bundle of both of these MUST-HAVE
apps at a one-time discount.
Start using these two apps in your emails and see
the difference it makes (its been proven to 3x clicks)!
==> INSERT LINK
To your success,
NAME
Subject: I hate coding….ughhh (the fix)
Subject: Sick of technical barriers… (the solution)
Subject: Adding video + timer with NO technical barriers…
One thing that seems to hold most marketers
back, are the technical hurtles.
Lets face it, we don't want to sit and learn
how to code…
We want to MARKET.
Well here is a perfect solution [INSERT LINK] (heck,
even developers will start using this)
So instead of going through a 5 page tutorial
on how to hack up code (errrrr)….
[Insert Image]
Now you can embed HTML5 video and dynamic countdown
timers into your emails with two snippets of code
that look like this…
[Insert Image]
It literally takes 60 seconds to add the two most
powerful sales triggers to your emails now (with
NO coding required).
==> INSERT LINK
To your success,
NAME
PS. After the "charter special" these two apps
are going to be sold separately and their normal
prices.
Grab the bundle of Video Spike and Timer Spike
before this offer goes away!
==> INSERT LINK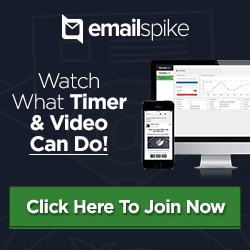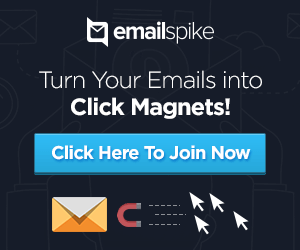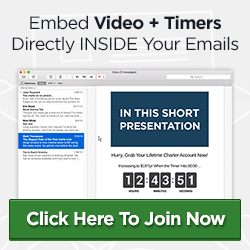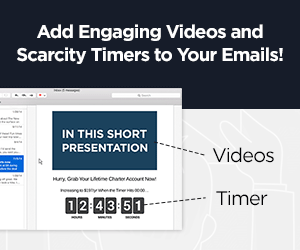 Timer Countdown (ends on close day)
<img src="https://s3-us-west-2.amazonaws.com/email-spike/15671/59.gif" />
Video Embed
Bonus #1: 10 List Building Mistakes: How to Avoid These Email Marketing Killers

Bonus #2: Affiliate Tutor

Bonus #3: Lead Gen Pro WordPress Plugin

Bonus #4: Facebook Lead Capture